Accounting English Online Course
"I am happy to build my accounting knowledge. Thanks for everything."

- F. Luciano (student)


"I like it very much, I find it clear and well structured."

- I Ilse (student)


"This course is the best. Good luck!"

N. Nandintsetseg (student)

What is English 4 Accounting?
English 4 Accounting was designed to help teachers organize and improve their English for Accounting classes. It is also a great resource for professional accountants who want to improve their English.
Activities include: reading, listening, writing, and speaking exercises. Students can even record their voice and have the teacher listen and correct it just like a real language lab.
We Have 20 Full Units Online
Certification Included
Students who complete the course will get a printable certificate they can share with friends and potential employers.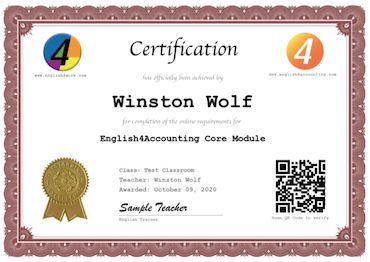 At what level is the vocabulary taught?
The course material is geared for intermediate to advanced levels. This would be equivalent to levels B2, C1, and C2 levels on The Council of Europe Language Level Scale.
How does it teach?
A wide range of self-grading activities are included. Some activities require manual grading by a teacher. All you need is a web browser and an Internet connection. Speakers and microphone are recommended for some activities.
Who are you guys?
We are English For Work, a company that specializes in workplace training programs for various industries including: Information technology, hospitality, and medical english.